UR 38200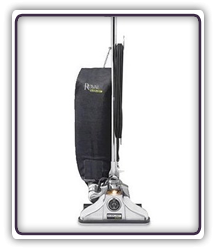 The Royal UR 38200 Upright comes with a 14" bell-shaped nozzle and a curved, double-row ball bearing revolving brush with stiffener to pick up deep down dirt other vacuums leave behind. The bell-shaped nozzle also provides effective dual edge cleaning along baseboards and edges of furniture, making your job twice as easy. Plus, for easy maneuverability and control, the 38200 upright comes equipped with our patented self-propelling "Cushionaire"™ feature and wide wheel design, along with a 10.0 amp motor.
UR 30095
The Royal UR30095 Pro Series soft bagged upright has all the newest technology offered by Royal. The 5.5 motor has two speeds for extreme quiet cleaning. The 11qt. capacity bag has a self sealing Hepa filter and a bag full indicator light.The bright led headlight makes visibility a plus and the 35 ft.cord makes maneuverability very easy. The attachments and accessories makes everyday cleaning enjoyable.
UR 30090
This top of the line cleaner feature exceptional filtration, and cleaning performance. Air powered hand tool comes with this vacuum for getting pet hair off of the furniture or stairs. It can clean quickly and efficiently with up to 17-feet of above-the-floor cleaning reach, seven floor settings for every floor type, and a 15-inch wide nozzle that devours anything in its cleaning path. For people with allergies, a bagged option offers excellent filtration - the nature of the bag itself keeps dirt contained. Requiring minimal maintenance, this vacuum comes with two bags made with HEPA media that utilize the Clean Drop™ Bag System, which allows homeowners to dispose of a full bag without ever touching it.
CleanSeeker UR30085
The Pro-Series CleanSeeker UR30085 Upright comes packaged with Royal's new Clean Seeker dirt finding technology. When the debris on the floor is being vacuumed up into the vacuum cleaner, the CleanSeeker sensor will indicate Red, alerting the user that there is still Dirt being picked up. Other Features found on the Royal UR30085 include a 5 level carpet height adjustment, handy for Residential Cleaning Companies that face an array of different types of carpeting heights from home to home. The Pro-Series UR30085 also comes standard with a HEPA Filtration Type Y Bag from the factory, ensuring that the added microscopic particles your now vacuuming up don't fly right back out the other end of the vacuum.
UR30075
Whether you have a split-level, ranch style or multi-level house, the UR30075 Pro Series has great features for home cleaning. The carpet height adjuster has 5 different positions to use. A 12 amp, by-pass motor gives you enough power to clean deep pile carpet, while the wooden brushroll won't melt from the heat that occurs over hours of vacuuming. On-board accessories include 2 wands, a crevice tool, a dusting brush, and an upholstery nozzle safe enough for cleaning various surfaces and places.
Lexon Canister SR30020
For a truly amazing canister vacuum cleaner, look no further than the Royal Lexon SR 30020. This canister is packed with power for exceptional cleaning, and offers an array of convenient features, all designed to make life easier and keep your home looking cleaner. Whether you have bare floors or wall to wall carpeting, this canister can clean it all.
Lexon Canister SR30018
The Royal Lexon SR30018 Household Canister Vacuum is equipped with multi-surface motorized power nozzle, brush roll on/off feature in handle, 20-foot power cord with automatic rewind, adjustable suction control and full bag indicator, HEPA filtration, metal telescoping wand, on-board tool storage with crevice tool, dusting brush and hard floor brush. All SR30018 vacuums are also energy efficient!
Lexon Canister SR30015
This new, midsized utility canister offers powerful cleaning, great filtration and many features only found on much higher priced models. This is definitely a best-buy for those looking for a compact yet dependable and powerful compact canister vacuum.
Lexon SR0010
With a barefloor brush and a carpet rug nozzle, the Royal SR30010 provides the ultimate cleaning experience. The Lexon S10 canister vacuum also uses a powerful 10-amp motor to pick up more dirt and dust and keep your home feeling and smelling clean: 360º Swivel. The SR30010 offers a 360º swivel feature that allows you to clean more area without wasting a lot of energy: Full Bag Indicator. The Lexon S10 from Royal features a full bag indicator to tell you when to change the vacuum bag. You won't have to rely on guesswork anymore! Adjustable Suction Control. When cleaning more delicate surfaces, such as drapes or throw rugs, you can adjust the suction dial to prevent sucking unwanted things into the canister vacuum cleaner.
Pro Scrub Plus FR50152 Shampooer
Help extend the life of your carpet with the Royal® Pro Scrub Deluxe Carpet Washer. Designed to clean many carpeted and fabric surfaces in and around your home. Make cleaning a breeze with spill free tanks that are easy to access, easy to fill, empty and clean. The Power Scrub Deluxe features SpinScrub® multiple brush system, a rinse option, automatic detergent mixing, a DualV® Nozzle for more efficient cleaning and forced heated air for faster drying time. And as a bonus, this carpet washer includes a $60 value accessory pack! Extra tools, hose, cleaning solution and tool storage bag included for all your cleaning needs.
ER 10000 Hand Vacuum
The ER 10000 Hand Vacuum is ideal for cleaning drapes, upholstery, stairs, cars and more! The powerful motorized brush roller and 7 amp motor make this new lightweight hand held vacuum from Royal a number one choice. It has a 6.5" nozzle width, a rinsable HEPA filter that traps 99.97% of dust and pollens down to 0.3 microns, and an easy-to-empty bagless dirt cup. It comes with a 5-piece tool set that includes crevice tool, horse hair dusting brush, upholstery brush, wand and hose. 25' power cord makes it ideal for cleaning drapes, upholstery, stairs and cars. It also includes a 4 year manufacturers warranty.