Ann Rich (Owner)
Ann, Co-Owner and Office Manager for Rich's Sewing & Vacuum, functions largely behind the scenes keeping all the books and paperwork organized and flowing smoothly. With more than 25 years in the accounting field, Ann is an invaluable asset to our organization. If you've had the opportunity to visit one of our Events, the delicious food and treats are most often made and/or organized by Ann. You can find her in the Salem store. When not attending to her Owner/Office Manger functions, Ann enjoys quilting, volunteering at the church and school and being a Mom to her four children.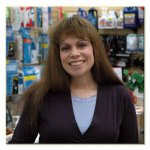 Daniel Rich (Albany)
Whether you need a sewing machine or a vacuum cleaner Daniel is here to help you find just what you need. While not at work Daniel enjoys breeding dogs and riding jet skis with his family. Daniel is married to Jennifer Rich. Together they have two young sons.