Ann Rich (Owner)
Ann, Co-Owner and Office Manager for Rich's Sewing & Vacuum, functions largely behind the scenes keeping all the books and paperwork organized and flowing smoothly. With more than 25 years in the accounting field, Ann is an invaluable asset to our organization. If you've had the opportunity to visit one of our Events, the delicious food and treats are most often made and/or organized by Ann. You can find her in the Salem store. When not attending to her Owner/Office Manger functions, Ann enjoys quilting, volunteering at the church and school and being a Mom to her four children.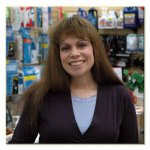 Brian Barnhart (Salem)
Brian has been part of the Rich's family for about five years now. Brian handles sales and service in the Salem store. Brian is an aircraft mechanic by trade and was in the service. His hobbies include building muscle cars and motorcycles. Brian is married and lives in the Albany area.
Tim Cox (Salem)
Tim has worked with Rich's Sewing & Vacuum owner John Rich since 1993. They began in the sewing machine business in the Seattle area. In 1998 when John relocated to Salem, Tim decided to join John and return to his hometown. With an easy going personality, infectious laugh and well-known sewing machine repair skills, Tim has become a customer's favorite at Rich's. In 2002 Rich's expanded into the Albany market and Tim became the Store Manager. In 2010, Tim became the Service and Distribution Manager. In 2017 Tim accepted a position as the Salem store manager. An outdoorsman at heart, Tim enjoys hunting and fishing in his spare time.
Julie Cox (Salem)
Julie has been at Rich's for a number of years and is great at keeping us all organized. She is now the Education and Events Manager at Rich's Sew & Vac. Julie is known for her vast knowledge of available parts and notions and can get you just the right foot or thread to make your project perfect. With an upbeat personality and a quick laugh, Julie makes customers quickly feel at home when visiting Rich's. With a wonderful knowledge of all the products Rich's carries, including notions, accessories, software and machines, Julie is a great resource when considering a new machine. When not working at Rich's, Julie enjoys sewing, cooking and spending time with her family.
Pam Toews (Salem & Albany)
Pam retired after many years of teaching before working at Rich's. She loves spending time with her children and grandchildren. Pam also enjoys traveling around the world with her husband, and has visiting several countries. She has been an integral part of Rich's team for nearly fifteen years, and of course, she loves to sew!
Brad Smith (Salem & Albany)
Meet Brad Smith. He works in the Salem store and has been in the sewing business for over 20 years. Brad has a vast knowledge of sewing techniques and enjoys helping people with their sewing needs. Quilting is his favorite as he appreciates the artistic flair that quilting allows. Brad has two adult children and enjoys the outdoors in his spare time.
Emily Lockwood (Albany)
Emily has been working for Rich's since August of 2014. She has been sewing for many years and worked in Portland sewing draperies before coming to Rich's. Emily enjoys many hobbies, but sewing is her favorite. She loves to create garments and crafts and has started quilting. When not working, Emily spends time with her two children who often ask to do crafts with her.
Jeremy Cox (Albany)
Jeremy started working for Richs in 2000, then he decided to join the military for some years. He is back in Oregon and now working in the Albany Store. He enjoys spending time with his two boys and painting in his free time.
Christian
Christian J Henriksen has 20 plus years experience as a service and repair technician and a sales consultant for Riccar, Simplicity, Miele, and Sebo vacuums as well as 11 years as a tech for Bernina, Janome, Bernette, Pfaff, Baby Lock, and Elna sewing machines.