Memory Craft 12000

Whether you quilt, embroider, sew home décor and garments, or do a combination of everything, this machine makes it all more enjoyable. You'll be able to complete projects more quickly when you're on a deadline. But it's so effortless to use, and gives you such powerful tools, you can also spend whole days happily stitching, loving what you create. It truly expands your horizons.



Memory Craft 7700QCP

The machine is even better than expected. It is sturdy. It is quiet and smooth. The lighting is great. The extra room is a huge help for free motion quilting. You won't be able to wait to explore all those stitches. Overall, a GREAT machine.


4120QDC

With sturdy construction and stable feeding, style follows substance in the well equipped and intuitively designed Janome 4120QDC. 120 stitches, twin-needle functionality, superior editing, and mirror stitching are just a few of the cutting-edge features of this special machine. The Janome 4120QDC has the power, precision and convenience you need to realize your creative potential. Memory Craft 9700 Memory Craft 9700 was designed to bring together all the best features in one sewing machine. You get the precision stitching Janome is known for, easy navigation and design layout on a color touchscreen, and the built-in, two-step conversion from sewing to embroidery you can't get from any other brand.


3160QDC

A full-featured machine made with a quilter's needs in mind, the 3160QDC will deliver all the benefits of a top of the line model, and with an affordable price. You'll find 60 stitches including 6 one-step buttonholes. Janome's Exclusive Superior Plus Feed System offers specialized box feeding on top of Janome's SFS system, ensuring even, stable feeding with any fabric. And the time saving features including memorized needle up/down, one hand needle threader, and lock stitch button make sewing easy. Best of all, this full-size machine weighs only 12 pounds, so its easy to take to classes and guild meetings!


Jem Platinum 760

The Jem Platinum 760 contains all the great features of a full-size machine, with a smaller model's price and efficiency. This 3/4 size machine weighs just 12 pounds, but packs the full weight of other computerized sewing machines, incorporating advanced controls and a wide range of everyday functions - making it the ideal starter model for beginning sewists or travel machine for classes and guild meetings.



Jem Gold 3

Performance and portability. Two great features unite in the Janome Jem Gold 3 to create the perfect travel machine for the expert, or starter machine for the beginning or returning sewist. This little workhorse packs big machine features like 10 stitches, a four step buttonhole, built-in needle threader, one-hand thread cutter, and quick foot conversion. At just 12 pounds, this sleek and easy to carry quilting machine is just right for class!



MyStyle 100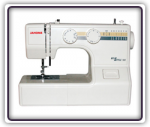 What's your style? Simple? Chic? Edgy? Elegant? A little mix of it all? Janome's MyStyle100 gives you what you need to make your style all your own. 12 actual stitches and one buttonhole, sturdy design, auto-declutch bobbin winder, 300 to 800 stitches per minute and EZ change feet give you power to create your own looks.




1110DX

The 1110DX makes serger sewing easy! Incorporating the differential feed system of two feed dogs, puckered edges on woven fabrics and stretched edges on knits are virtually eliminated. The rolled hem conversion feature eliminates the need to change the needle plate, foot, or tension setting for rolled hemming. Restructured lower looper guides allow easy access. The included threading card and color-coded guides are easy to follow for 2, 3, or 4 thread serging.



My Lock 204D

The MyLock 204D gives you a wide range of serging features in a compact machine. Its sturdy design and precise Janome stitch mechanism ensures beautiful 3/4 thread operation. And the fact that it doesn't take up much space makes it an easy fit for your sewing room.




1000CPX

A coverstitch machine is essential for the sewist looking to achieve a professional finish. The 1000CPX's innovative design is based on the marriage of an industrial-style cover hem machine and a convenient home machine. The resulting union has produced a high-speed, long arm, heavy-duty cover hem machine that looks and operates like a sewing machine. With a wide trip cover hem stitch, exclusive free arm configuration, and Janome's Seam Tightening System, the 1000CPX is the most advanced Cover Hem machine available.