Alliance

The new Baby Lock Alliance single-needle, free-arm machine lets you embroider easily in tight quarters and even on three-dimensional projects. Its narrow embroidery arm and specially designed small hoops and frames take your embroidery places not possible with other machines—inside pockets, sleeves, even embroiderable stuffed animals!







Destiny

The Baby Lock Destiny includes an HD TruView LCD Touch Screen, a video playback option, and a Needlecam Digital Camera for perfect stitching. The IQ Designer digitizes your artwork and allows you to edit your new embroidery designs down to the exact stitch. This revolutionary machine also includes a multi-function foot control, 4 embroidery hoops, and a USB drive to easily access your designs.p


Journey
Begin your next embroidery voyage with the Baby Lock Journey. Explore unknown territory with 262 embroidery designs. Embroider them all, big and small with
embroidery hoops as large as 7" x 12".Then customize to your liking. It's just one of the benefits of smart Baby Lock IQ Technology. The Baby Lock Journey has numerous on-screen editing options. When it comes time to sew, you'll love the built-in decorative sewing stitch options. For sewing or embroidery, the Journey is a great choice for your next creative adventure.





Ellure Plus

The Ellure Plus includes a suite of features for embroiderers and avid sewers. The USB (Type A) port and 5" X 7" embroidery field will make your embroidery projects a breeze. And with a variety of decorative stitches and hands-free presser foot lift, the Ellure Plus will make sewing more convenient. You won't be able to decide if you love the Ellure Plus for its embroidery or sewing features. It offers 6 embroidery fonts, a 5" X 12" multi-position hoop and thumb drive access to your designs. Or will you love its 205 built-in stitches including lateral feeding stitches and an extension table? You'll have a hard time deciding if it's your go-to machine for sewing or embroidery.

Crescendo

The Crescendo deluxe sewing and quilting machine is sure to make your next composition a masterpiece. Innovative features powered by Baby Lock IQ Technology™ add to a luxurious sewing and quilting experience. IQ Technology is what makes Baby Lock machines so smart and efficient. You tell the Baby Lock Crescendo what you want to accomplish and IQ Technology works with the "brain" of the machine to achieve your desired results. The Crescendo also has the largest workspace of any machine in the Baby Lock sewing line, making it the perfect accompaniment to creativity of all sizes.




Aria
When it comes time to set the stage for quilting success, the Baby Lock Aria quilting machine is your best choice. The Baby Lock Aria is packed with features powered by Baby Lock IQ Technology™. That means you'll enjoy quick auto-adjustments and a hassle-free sewing experience. Make elegant turns using the advanced pivoting feature, and the Digital Dual-Feed System to help effortlessly stitch multiple layers of fabric. Plus, the extra-large workspace gives you more room to compose bigger projects. With so many user-friendly features, you might start making more than one quilt in a day!

Tempo
If you love the creativity that comes with quilting, the Tempo is the machine for you. There are no limits to your fabrics or stitches, so you can always have fun. And when you're ready to try new techniques, the Tempo will keep up.

Rachel
Ready to take your sewing to the next level? Rachel's the star of any sewing class, and she's here to help you. This computerized sewing machine is equipped with push-button features to make every project easier. And Rachel's not only smart; she's fun to work with, too! With numerous decorative stitches, you can also embellish all types of projects.


Anna
No matter what you're sewing, Anna can keep up. With a drop-in bobbin and 15 built-in stitches, Anna is the supportive friend who's always ready to boost your confidence and cheer you on. With 15 stitches, you won't have to sacrifice variety for portability.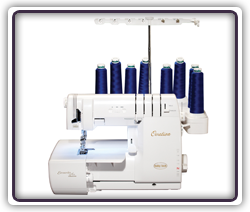 Ovation
The Ovation serger eight-thread serger brings you the largest workspace in the home serger industry! It includes a knee lift, and six bright LED lights to make every sewing project easier. With Automatic Thread Delivery (ATD) you will never have to worry about tension adjustments again.The Ovation has 87 stitch combinations including the Baby Lock Exclusive Wave Stitch.

Evolution

The advanced 8-thread Evolution serger brings you the latest evolution in threading technology with ExtraordinAir™ threading. With just one push of a button, ExtraordinAir takes your thread through all three loopers at once, instantly, with a gust of air. Plus, you can thread the Evolution in any order. Eliminate tensions and puckering with the patented Automatic Thread Delivery System™. Combine chain and overlock stitches to form up to 8-thread stitches.
Click here to watch a video that highlights the main features of the Evolution serger from Baby Lock.



Cover Stitch

The Cover Stitch machine is perfect for both home sewers and tailor shops. Designed especially to complement a Baby Lock four-thread serger, the Cover Stitch machine creates professional finishes for all ready-to-wear and home decorating projects.







Imagine
Imagine – Baby Lock's most popular serger. This advanced home serger includes Jet-Air Threading™, which threads the lower
loopers with the touch of a lever, and Automatic Thread Delivery for perfect tensions every time. The Babylock Imagine also offers non-sequential threading, meaning the machine can be threaded in any order.
Click here to watch a video that highlights the main features of the Imagine serger from Baby Lock.






Eclipse DX

You'll view serging in a whole new light. This easy-to-use serger includes Jet-Air Threading, plus adjustable manual tensions that allow for perfect stitches on any type of fabric. Threading a serger has never been easier than with the revolutionary Jet-Air Threading from Baby Lock. With just one touch of a lever, thread is sent through the tubular loopers. There are no thread guides, no struggling, and there's plenty of extra time to serge away!






Lauren
Practical and steady, Lauren makes sure every stitch stays in place with professional quality and incredible speed. This easy-to-thread serger can handle 4/3/2 thread serging, blind hems, a narrow rolled edge and more. Lauren gives projects a finished look with reinforced stitches and decorative edging.








Enterprise
Nothing can hold back an enterprising spirit and with the right tools everything is possible. Whether you just love to embroider or ready to start an embroidery business, we know the new Baby Lock Enterprise is the right tool that can help you achieve your goals. When it comes to the Enterprise's astonishing 10 needles, you can be overjoyed without being overwhelmed. Large designs, multiples, or even gorgeous 10-color designs can be embroidered at a speed of 1,000 spm with minimal set-up or thread changes.



Endurance
Looking to take your embroidery to the next level? Whether you long to tackle more embroidery projects, or are interested in starting a business, the Baby Lock Endurance will help you on your path to success. With 6 needles and incredible, innovative features, you'll have everything you need to take the next step in your embroidery career.







Sashiko
The look of traditional hand-stitches passed down through generations can now be created on the new Sashiko Machine from Baby Lock. The Sashiko perfectly replicates this distinctive and celebrated stitch with a unique needle system and adjustable stitches and spacing. Now you can add a hand-stitched touch to any project with a household machine that's truly the first of its kind. Click here to view the main features of the exclusive Sashiko machine and achieve the look of hand stitching.



Embellisher

If you're looking for a technique to make your projects stand out in a crowd, then the Embellisher is the machine for you. Sewers, quilters, crafters and embroidery lovers all appreciate the extra touch that this machine can bring to any project. The Embellisher uses the unique art of European needle felting to create incredible detail and texture using absolutely no thread! You can even remove any of the needles or use all 12 for free-motion embellishments of any size.