*Not available in Eugene store
Radiance
The Riccar Radiance features the revolutionary Tandem Air System, creating the first vacuum to provide exceptional cleaning performance, sealed HEPA filtration, the convenience of powerful on-board tools and unsurpassed durability in one machine. Worry-free ownership is a benefit your get buy choosing a Riccar with a Red Carpet Service Plan included.



Retriever
Pet hair and odors don't stand a chance with the new Retriever pet vacuum. With a granulated charcoal filter and HEPA bag to trap hair, dander and odors and a hand turbo brush for cleaning upholstery and stairs, Retriever is a perfect companion to your pets. Also features Tandem Air cleaning technology, on-board tools and a 5 year warranty.




Vibrance Classic
This American made model boasts HEPA filtration, a rug/floor switch, a LONG hose, variable suction, and much more. The rug/floor switch stops the roller from turning enabling you to clean bare floors without the risk of scratching. When the roller is turned off, it keeps the roller from kicking dirt out the back of the vacuum. The wheels are rubberized which protects your bare floors from scratching. It has a THREE year warranty and a METAL brush roll. The 24 foot cord makes it easy to clean a large area.

Vibrance Premium
With metal components used throughout the vacuum, 12 amps of power, HEPA filtration, a floor selector and numerous convenience features, the long-lasting, outstanding performance of the Vibrance Premuim will certainly impress. Pristine Exceptional cleaning performance, sophisticated HEPA filtration and numerous luxury touches define this impressive canister. Equipped with a full size power nozzle, Pristine is designed to clean a multitude of flooring surfaces from rich hardwoods to ultra-plush carpet.


Supra-Quik
When you need highly portable cleaning power, Riccar's SupraQuik with a generous 25 foot cord is the perfect solution. The SupraQuick features a 700 watt motor, electrostatic filtration system, includes mini tools and a 2 year warranty.


Carpet Keeper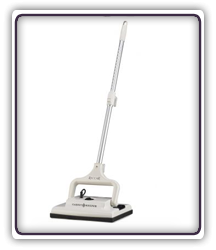 The Riccar Carpet Keeper! It is a dry carpet cleaner applicator! This vacuum is a unique Idea for cleaning carpets. With this technology you know no longer have to wait for the carpet to dry. You can also clean your carpets in less time. The idea of Spray, Sprinkle, Scrub let sit for atleast a half hour, vacuum and you're done. Is just remarkable!



RSL4
The Riccar RSL4 vacuum cleaner utilizes a 5.5 amp motor that is a little more powerful than the 4 amp Oreck motor. The Riccar RSL4 also utilizes micron filtration paper bags. The RSL4 has a benefit that sets it apart from the other Riccar vacuum cleaners. It uses a two speed motor. The higher speed setting is utilized for vacuuming carpet. The lower setting is utilized when sweeping bare floors, whether they be tile, wood, or linoleum.